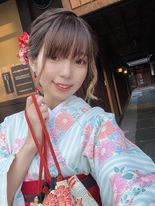 The classes at Shizuoka International Language School are easy to understand, and if there is anything you don't understand, they will always kindly explain it to you. Also, studying at school is really interesting because you can experience Japanese culture through Japanese events.
Furthermore, in order to make living in Japan easier, they also teach me about Japanese rules.It is really helpful not only to study Japanese, but also to support students' daily lives, advancement to higher education, and employment.
At first, I was worried about living and studying in Japan, but at school, the support from teachers and the kindness of seniors and classmates put me at ease. I am very happy to be able to study at this school.
PAN PHYU MYINT
(Enrolled in October 2022、From Myanmar)