Academic advancement course
General course
Entrance qualification

Applicants are required to complete 12 years of education at school.
Applicants are required to pass N5 exam or to learn 150 hours lessons of Japanese language or more.

Entrance timing
April
October
Duration
2 years
Target
To obtain N3 or more for every student(N2 required for students who wish to go on to University)
School hours
1,600 hours/2years
First grade
Second grade
Total
Payment deadline
Before entrance

April admission: By end of Sep

October admission: By end of Mar

April admission: By end of Mar

October admission: By end of Sep

April admission: By end of Sep

October admission: By end of Mar

Application fee ※
¥20,000
–
–
–
¥20,000
Entrance fee ※
¥120,000
–
–
–
¥120,000
Outside school ※
¥40,000
–
–
–
¥40,000
授業料
¥276,000
¥270,000
¥270,000
¥270,000
¥1,086,000
Total
¥456,000
¥270,000
¥270,000
¥270,000
¥1,266,000
These expenses are necessary only in the first time.
Prepayment of tuition for one year is acceptable.(in case of one year payment, 15,000 yen will be reduced)
Above payments do not include payments for the textbooks and leaning materials.
If students drop out of this school before official graduation, those payments are not refundable.
About students already in Japan here
|   | 2 persons / room | 1 person / room |
| --- | --- | --- |
| Entrance registration ※ | ¥10,000 | ¥10,000 |
| Maintenance ※ | ¥50,000 ※ | ¥50,000 ※ |
| Deposit ※ | ¥30,000 ※ | ¥30,000 ※ |
| Monthly room charge | ¥13,000 × 6 month | ¥22,000 × 6 |
| Total | ¥168,000 | ¥222,000 |
If you need dormitory of this school, your payments as shown in the above are required at the procedures for entry to this school.
※ These expenses are necessary only in the first time.
You have to pay your own expenses for light and fuel expenses separately.
If you cancel your room after the above payments, room charge, entrance fee and maintenance fee are not refundable.
Educational curriculum of our school roughly consists of 3 classes, beginner, intermediate and advanced.
Educational content for each student is decided based on the level of Japanese language at the timing of entrance.
Grade
Level
Class
Contents
Duration
First
1
Primer

Basic conversation and voice training

1 week
2
Beginner 1

Basic Japanese for daily life

3 months
3
Beginner 2

Mostly understand slow conversation in daily life
Express one's intentions
Read articles of familiar topics

3 months
4
Intermediate 1

Make progress in grammar from basic to intermediate
Understand specific content of daily conversation
Improve the level of reading, speaking and listening

3 months
Second
Intermediate 2

Master intermediate level of expression and reading
Listen daily conversation and communicate with each other
Write one's opinion

3 months
Intermediate 3

Acquire reading, listening, speed reading in N2 level
Prepare for JLPT and EJU
Write an essay

2 months
5
Advanced 1

Upgrade reading level through intermediate to advanced
Grammar, vocabulary, kanji in N1 level

3 months
Advanced 2
2 months
Advanced 3

Reading, listening and writing for continuing education
Write a report, presentation
Practical Japanese training

1 month
Our school supports students to go on to university or vocational school after graduation from our school or to find employment directly. (shown below ① to ④)
N2 level or higher is required to enter university. Our teachers also teach preparation for N2 exams and EJU. In addition, we will introduce affiliated universities and provide information on going on to higher education.
② Going to Junior college, Vocational school
N3 level or higher is required to enter Junior college or Vocational school. Our teachers provide guidance on JLPT exam preparation and information on affiliated schools in the same way as going on the university.
③ Working in 3 main occupations below
Technology
Specialist in humanities
International business
You must have at least 4 years of specialized education at your home university. We will give you information on companies and corporations where you can get a job, how to write a resume, and advice on interviews.
④ Working specific skill visa(TOKUTEI GINOU visa)
To obtain this visa, you must obtain N4 or higher and pass a specialized examination. We support the preparation of specialized exams for 5 of 14 occupations. (Food service, Food manufacturing, Accommodation, Agriculture and nursing care) Also, we can give you the same advice as above③, such as companies that can work.
(Mon. to Fri.) 4 hours /day
45 minutes lesson for one time period and morning classes or afternoon classes will be arranged based on grade of class.
Schools are closed for Sat. , Sun. and national holidays in Japan.
No schools in spring holidays, summer holidays and New Years holidays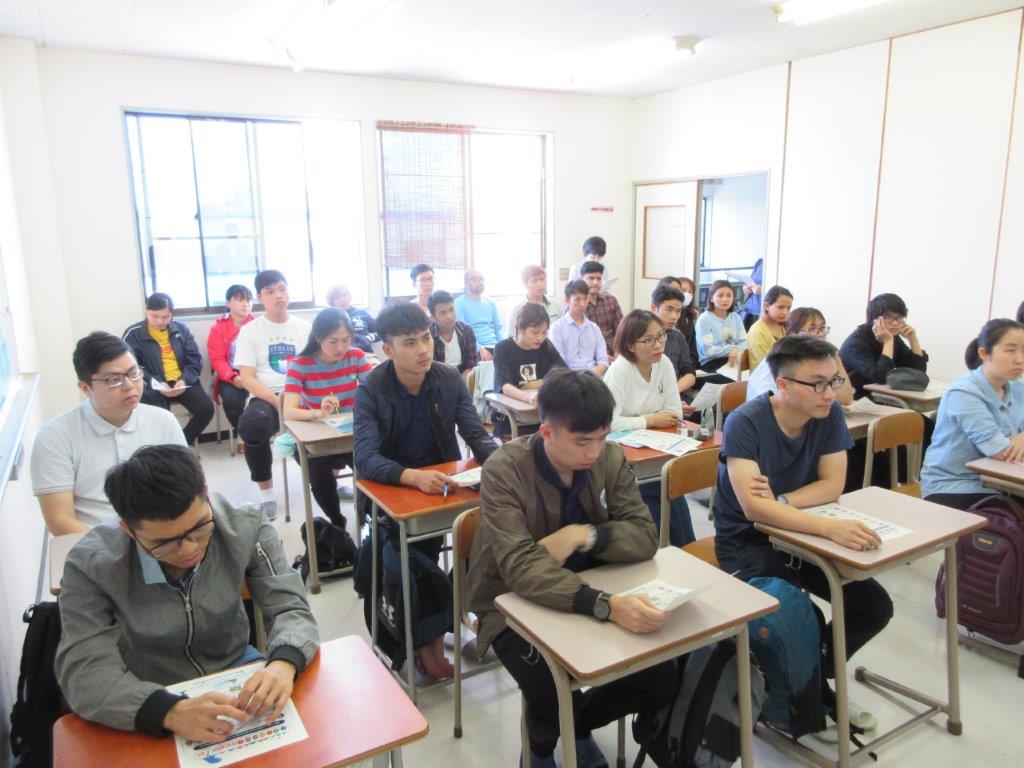 | | |
| --- | --- |
| Ⅰ | 8:30 ~ 9:15 |
| Ⅱ | 9:25 ~ 10:10 |
| Ⅲ | 10:20 ~ 11:05 |
| Ⅳ | 11:15 ~ 12:00 |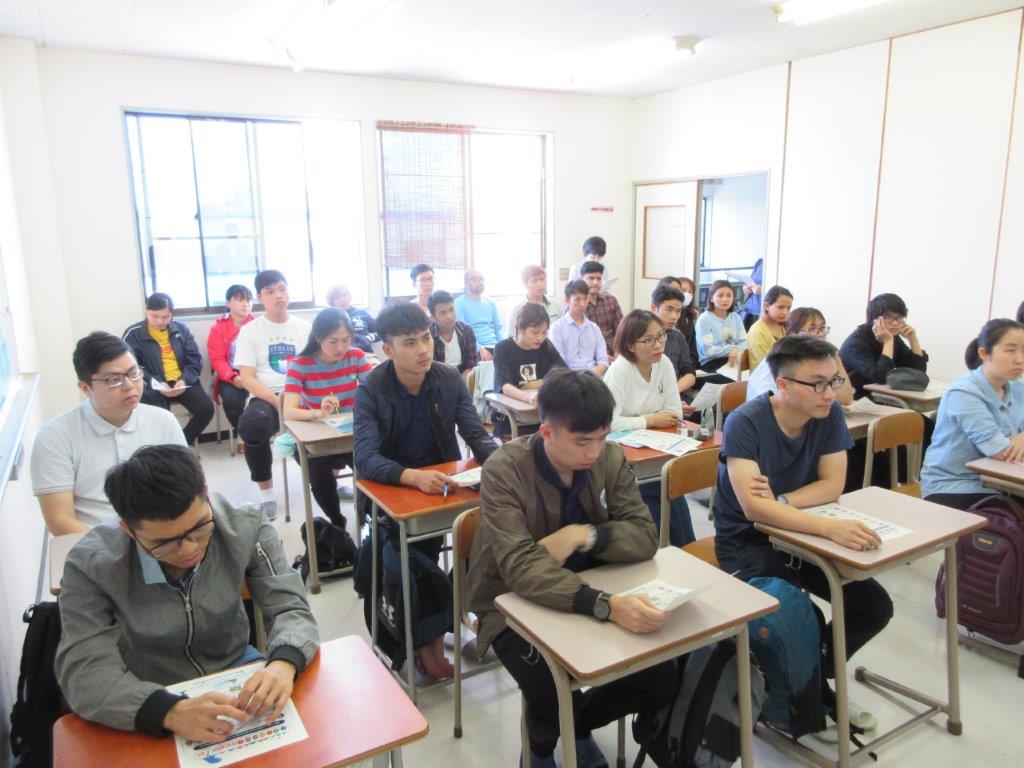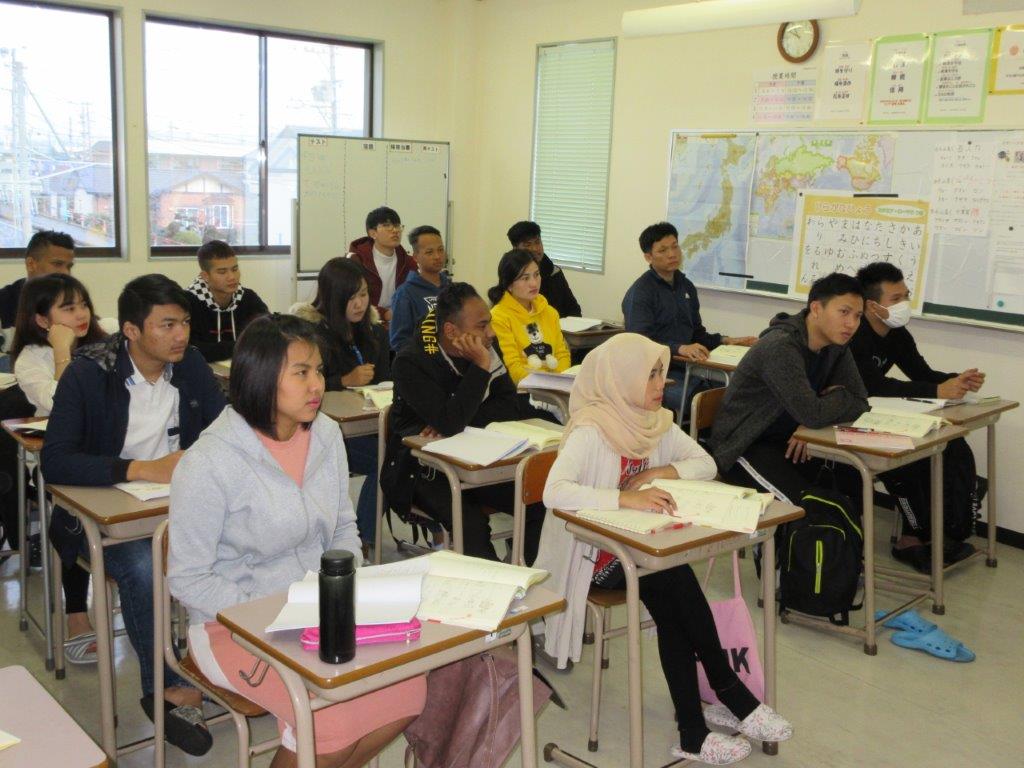 | | |
| --- | --- |
| Ⅰ | 13:10 ~ 13:55 |
| Ⅱ | 14:05 ~ 14:50 |
| Ⅲ | 15:00 ~ 15:45 |
| Ⅳ | 15:55 ~ 16:40 |
University of Shizuoka
Shizuoka Sangyo University
Shizuoka Institute of Science and Technology
Shizuoka Eiwa Gakuin University
Shizuoka University of Art and Culture
Nagoya Economics University
Ryukoku University
Tokyo International Business College
Kanagawa College of Economics
Chuo Institute of Information and Design
Tokushima Industrial College
Nissan Ehime College of Automobile Technology
Anabuki College of Automobile Technology
Shizuoka Eiwa Gakuin College
Nakanihon Automotive College
Kokusai Kotoba Gakuin College of Foreign Language
Prospera Business Institute
Hamamatsu Professional College of Information Technology
Seirei Christopher College of Care Work
Shizuoka Professional College of Automobile Technology
Fuiji Mechanics professional College
Nagoya Management and Accounting College
Chuen Cooking Technical School
Kokusai Kanko Technical School(Hamamatsu)
Kokusai Kanko Technical School(Nagoya)